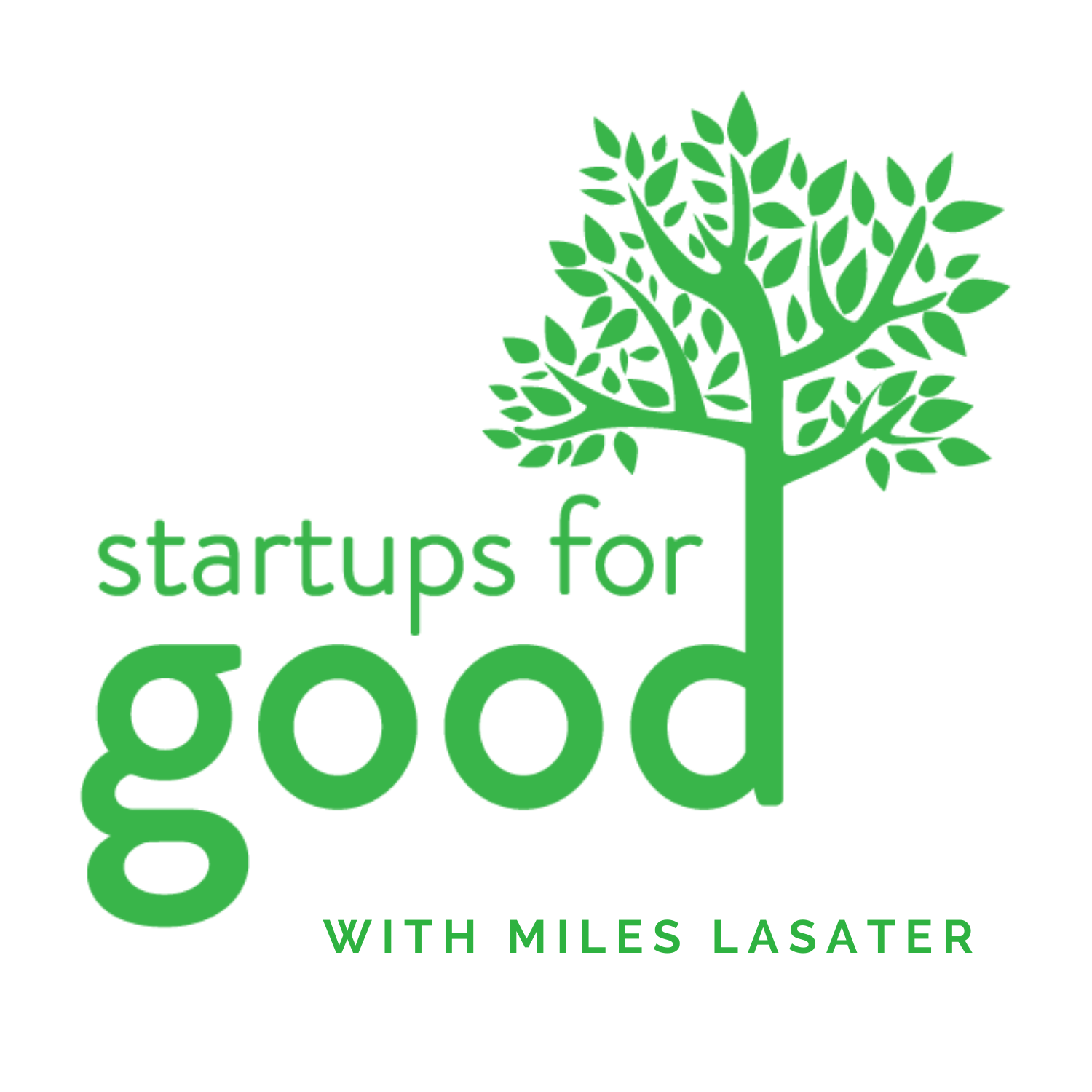 David is the Founder and CEO of Founders Pledge, a global community of entrepreneurs finding and funding solutions to big global challenges. Launched in 2015, Founders Pledge has raised more than $2 billion in pledges from 1400 entrepreneurs in 30 countries and seen $450 million donated to charity as a result. Their members include the people behind some of the most innovative companies in the world, including Planet, Bolt, Memphis Meats, Transferwise, Credit Karma, Skype, Spotify, Klarna, Deepmind, and many more.
David joins me today to discuss how he came to create Founders Pledge. He shares their mission and how successful they have been so far. David also conveys some of their big challenges. We discuss where he received the seed money for the firm. David also shares with us what he considers, "the best thing on the internet".
"That's sort of how founders pledged developed is this idea where, you know, just help the best people do the most good with their money" - David Goldberg
Today on Startups for Good we cover:
Founders Pledge goals of community, advising and gaining pledges
The criticism of Donor Advised Funds being a tax shelter and the funds getting stagnant
The challenges of being an international company.
The funding environment of for startups and non-profits
Connect with David through Founders Pledge website
Subscribe, Rate & Share Your Favorite Episodes!
Thanks for tuning into today's episode of Startups For Good with your host, Miles Lasater. If you enjoyed this episode, please subscribe and leave a rating and review on your favorite podcast listening app.
Don't forget to visit our website, connect with Miles on Twitter or LinkedIn, and share your favorite episodes across social media. For more information about The Giving Circle
Transcript
Miles
Hello, David. Welcome to Startups for Good. Thanks so much for coming on.

David
Thank you so much for having me. Glad to be here.

Miles
Yeah, I'm excited to learn more about Founders Pledge, and maybe a place to start is How did you decide to found the organization?

David
Well, that's kind of a complicated story. And I guess it may be sort of starts a bit with my personal journey. So maybe I'll, you know, as they say, go back to the beginning. So I am, I started a business by accident. In 2006, when I was a bit younger, and a couple of years later, it wasn't a sexy business. By the way, it was like a bootstrapped brick and mortar, no technology kind of deal. But it was successful. And a couple of years later, I sold it and found myself with a meaningful amount of money. And, and I felt like I'd gotten pretty lucky in my life. To that point, you know, I had been born a white man in California, which is sort of the biggest leg up that one can get, and I think more people should recognize that. And I and I got lucky by selling this business, I was at the right place at the right time. And, you know, a couple years after I started something, I you know, I got rid of it, and did well. And I thought that I had a bit of a sort of karmic balance to settle, I guess, or, you know, or something like I wanted, I felt like I had an opportunity to give back. And so I decided I was going to give away, you know, meaningful amounts of my money. And I started to look into charities to think about, like, how do I do good in the world. And I found the whole process to be really frustrating in a way that I didn't expect. It was sort of like talking to talking to organizations operating on a different level of reality than myself, I was pretty interested in getting data and evidence and numbers. And these charities were really keen on giving me pictures and videos and sort of narrative storytelling. And it just, it wasn't what I wanted, because it's not how I ever made decisions in my life, certainly not how I ran my business. And I found myself deeply frustrated with this whole sort of journey that was meant to be really uplifting and really positive. And it turned out to be like this really, deeply. Yeah, frustrating. thing instead. And so I decided that, that can't be right. And I didn't want to waste a bunch of cash, sort of felt like I was gonna, like, you know, light a bunch of cash on fire and hope that the smoke did something positive for the world. That was how I felt about, you know, the charities that I'd found. And so I decided to go to university. Long story short, I, you know, at 25, did a degree and then moved to the UK to work on a PhD, which I started and didn't stop or and didn't finish, I sort of stopped in the middle with itchy feet. And this is where it's sort of the Founders Pledge. Piece starts as I left my PhD program, I joined a foundation. It's my first time actually, at this point, now working in the nonprofit sector. And the foundation was set up with a really beautiful mission, which was to help social entrepreneurs who were using technology to scale impact, it was a really nice idea where you can make money and do good in the same process. And, and it just didn't work. You know, it wasn't that the foundation, or I was doing something wrong, it was that we were trying to help people that weren't really very good entrepreneurs. I say this with great respect to them because they were really well intentioned people who had, you know, dedicated meaningful portions of their lives to starting businesses that use technology to do good in the world. But but they weren't good entrepreneurs because they'd never been You know, sort of been through the, the journey of starting something before, never really struggled to like, never really struggled in the way that like you struggle when you start just a commercial thing. And so I guess the point is that doing a social enterprise is a bit like having a handicap and like trying to fight a really good boxer, with one arm tied behind your back. So there, you have this really difficult proposition. And people who'd never started anything before it didn't have the grit didn't have the resilience had this sort of social conscience that is good in most respects, but in this instance, was really bad. And it was sort of just like, leading a horse to water and refusing to drink. And, and so again, I found myself frustrated with the charity sector. And I thought, you know, I'm spending my time helping these, you know, socially minded people try to build commercial propositions, maybe I've got the equation the wrong way around, maybe I should just help great commercial entrepreneurs to build and to do good to build social propositions with their wealth. And that's sort of how founders pledged developed is this idea where, you know, just help the best people do the most good with their money. And that was in 2014, I started playing with this idea and just sort of grown from then.

Miles
And how is it today, but by the numbers and by the offerings, how would you describe it?

David
(unitelligible) big, I guess today. So we are a team of 30, 35 people, or there abouts, 30, 34, 35. We are in three countries. We were split across four offices. But now offices are I guess, I think in the past. So we exist in four, four cities, really. So our headquarters is in London, we have a team in Berlin team in New York and team in San Francisco. We have about 1500 members. Now as part of the Founders Pledge community, these are founders, investors and VCs who've all made a commitment to donate some percentage of their exit proceeds to charity. And we have commitments valued at about 3.2 $3.3 billion, depending upon the day from those 1500 or so members. So we're a lot bigger than we were in 2014, which, and then it was just me with a silly idea in a, you know, a piece of paper on on a clipboard going around trying to get founders to give away the money they hadn't yet made. So now we now we're a bit more, a bit more professional, a bit slicker, more digital, as one would expect.

Miles
And it's more than just getting people to make that pledge or that commitment to give money. You're essentially offering a bundle of things, advice, donor advised Fund and a community maybe other things, right.

David
Yeah, totally. Thank you for bringing it up. Most, most people think all we do is offer a pledge. We are actually like a full stack philanthropy offering. Most people utilize us like their family office for their philanthropy. So we do three things. The first is, you know, which I've just described as a pledge, it's the easiest thing that we that our members do, right? It's very straightforward, you commit to give away some percentage of wealth that you haven't yet made. Only when you make it, it's easy to do that. Surprisingly, people think it's hard. But but I think it's pretty easy. And once you've pledged, then we have a community program that takes various forms over the course of time. So in 2019, we did about 75 events all over the world. These range from quite small dinners in our members homes, to global forums where we bring together three 400 of our of our members and, and the sort of their families to explore things over the course of a full day. It's like a conference, I guess. And we do work in groups and cause area cohorts and, you know, the occasional fund meetup. And we just started doing retreats. Well, we started in January and then stopped in February. But basically, the program is aimed at bringing together our community so that they can connect with each other and learn from each other. And the people working in the field, doing this really important work trying to make the world better. So we are the people who come in and talk to our members or charity CEOs, practitioners, educators, policymakers, professors. I mean, it sort of spans the gamut. And the goal here is to help contextualize the world as it is for the vast majority of people that live in it rather than just sort of the people that we encounter in our daily lives, which is generally a pretty homogenous group. So we want to sort of expose our members to a broader context. And help them to understand that that or how little they know about how much there is. It's, it's a fine line that we walk, but it's, you know, I think we do it pretty well. And then the third piece of what we do, which I think is the most important is what I call infrastructure for impact. So the first is the actual financial infrastructure for our members to move money globally. So this is, you know, the term of donor advised fund DAF, we offer a DAF that is set up to be global first. And it allows our members essentially, to make a single donation to an entity, US founders pledge, get a tax receipt locally, wherever they're a tax resident, and then have the ability to instruct us on how they'd like to deploy their capital over the course of time. So we essentially do their grant making for them. Whereas, you know, many people could do this on their own, certainly. And that's the case if you only plan to give in the same tax jurisdiction that you live in. But if you are interested in giving in any sense to like global organizations or things outside of your own country, your tax residency, then you're going to really struggle, you can't do it. And we provide this donor advised funds, as a zero cost service to our members. And then the second piece of that infrastructure bucket is we have a research team that does charity sourcing, vetting, diligence, and impact analysis, all aimed at helping our members make better decisions about how to allocate their resources when they have them to give away. So this is the sort of the answer to the question of like, that I was facing when I sold my business, like, what do I do with my wealth to make a positive impact on things, whatever those things are. So our research team is tasked with sort of uncovering the best giving opportunities, and then advising our members and their families on how best to deploy their assets to accomplish the things that they care about. And so sort of end to end, we look like a like a pretty, like a pretty full, fully loaded philanthropy offering for our members all delivered at zero cost.

Miles
I can see why that's attractive. Do you seek to increase the amount people are giving? Or you shifting within a cause area to more effective charities? Or to influence the cost selection? Or one of the

David
multiple all of the above? Oh, though, yeah. So our mission is to empower entrepreneurs to do immence good, right? It's that that as a mission statement has zero fat on it, right? every single word is necessary. And if you remove one of them, it sort of loses, it loses all intent. And the most important words in that whole statement is immense, right. So immense, both in terms of the volume, and in terms of the value. So we have a minimum starting percentage, so you have to pledge at least 5% to join founders pledge, it turns out that 5% if you're if you're a US citizen is probably pretty low. If you're if you're also an entrepreneur, there's there's a sort of a tax advantaged calculation to make and almost always it's more than 5%. So there's a lot of people that start at the bottom end of that spectrum, and it's our job to help them sort of think through like, actually, what do I need to be happy? What do I need to set myself up in a way that's comfortable, you know, taking into account that the world is going to change? How much do I want to leave my kids? How do I want to invest? Do I want to what do I want to do with my life, and then we try to help people understand that everything after that sort of optimal happiness point is unnecessary, and can be utilized to do pretty considerable amounts of good if, if, if done thoughtfully. And so we get people to increase their pledge percentage or average pledge in 2020 is more than 10%, which is great. It's the highest it's ever been. And then we help to get people to sort of think about what they care about. So because we don't charge anything for what we do, we don't get treated like a service provider. So you know that, you know, the saying the customer's always right. Well, you go into a restaurant and your food isn't right, you say, this is right, I'd like something else. And, you know, as as a restaurant tour, I would always, you know, I expect get you what you want it, you're always right. But it happens to be the case that in philanthropy and in the sector that we work in the customers most of the time wrong. And, and so it's our job to help them often to understand that in a really respectful way, of course, by sort of consciously complicating conversations, and by, you know, sort of challenging assumptions and sort of digging into them and helping our members to reason from first principles to really ensure that they're making decisions with their eyes wide open, knowing that when they decide to allocate something to cause X, it's Not going to cause Y as well. And this is a, you know, I would say a delicate process that, that, if done well can result in like orders of magnitude more good for the world and for the beneficiaries that, you know, we want to help whoever those beneficiaries are. So it's a combination of increasing the amount, finding the right things to focus on, and then optimizing within those cause areas for the most effective charities, the overall goal being a men's good as opposed to just some amount.

Miles
I think it was really interesting what you said about speaking truth to power, essentially, that you're able to, that's right, tell your members when they're wrong, because they're not directly paying you. And yes, that I think addresses, you know, potential question people could have about, what if this is at zero cost is this sort of like charity for rich people that could go buy these services in the marketplace, this, you know, philanthropic advice, or whatnot,

David
You absolutely could go buy these services, there are, there's no shortage of people selling them. And with respect to the sort of philanthropic advisors, you know, and I do, and some of them are really very good. But, you know, from my perspective, it's not, they're not always very necessary. So I think sort of creating the right incentives is super important. And we do it with their donor advised Funds, we do it with our advising, we do it across the board. And, you know, and if you think about your sort of your average founder, and I don't just mean, you know, the Silicon Valley founder, type, but I mean, your average entrepreneur, you're a founder, so you know, you know, you have to be a little bit crazy to start something, it's like, the sort of highest stakes gambling that you can, that you can engage in, because it fails so often. But when you start something and it becomes successful, maybe you raise some money, you get some scale, you hire a good team, you raise some more money, as the CEO or part of the founding team of a company, you don't get no, very much like many of the members that that we work with, many of the founders that we work with, you know, are used to getting their way they're used to, you know, being told, yes, sure, whatever, I'll figure out how to make it work, because you sort of have to have that, that streak of like, we're just going to figure out how to get it done in my ways, the way it's gonna happen. And so they want us to no, very, very often and, and they sort of become used to people saying just "Yes", across the board. And often we are the sort of the first people that are supporting them. And in a long time, perhaps, you know, excluding partners and significant others, of course, that say no to them. So, you know, you're, you're actually quite wrong. And here's here's how and why. Now, it takes, it takes a specific kind of person to be able to say that we have great advisors, thankfully, who are sort of approached this with humility and approach it sort of interrogatively. But but it is, it is something quite different than what most sort of paid philanthropic advisors would engage in.

Miles
And how do you measure your own effectiveness?

David
We look at sort of our counterfactual dollars move to high impact funding opportunities. It's a bit of a technical term. And, but we look at basically, so we assume that everyone who has pledged would have given to charity anyway. So that's our starting point, we say, you know, the $3.2 billion that we have committed, we assume that that would have happened anyway, it wouldn't in probably the same scale that we're in, but just to sort of be hyper conservative, where our harshest critics are our own harshest critics. So we assumed that that would have happened anyway. And then. And so we look at how our members actually deploy capital, based on what we expect them to have done, had we not supported them. So we sort of determine the counterfactual ality of each donation that someone makes and determine if it was influenced by us founders pledge. And if it was, then we can say that our impact is sort of the counterfactual dollars move to high impact funding opportunities. And yeah, so that's how we that's how one of the key metrics of how we measure our success. So I think about philanthropy a bit like you think about investing. So when you when you know, when you have money, your own personal money and you want to invest it, most of the time, you're going to go and you know, hire an investment professional, like a wealth manager, or, or some such or, or find a, you know, like an investment house that's basically going to optimize your you're investing for making a return on that investment. And you wouldn't work with an investment advisor who has a track record of losing his or her clients money, because that would just be dumb. You work with investment managers who've, like demonstrated again and again, that they can, you know, create more returns than the next best person. And it's rational, and it's how it should be. When we think about philanthropy. The exact opposite is is the case. Why would we not as philanthropists think about our giving, like we think about our commercial investing, or commercial investing has a return. And that return is easy to quantify, because it's more money. Philanthropy as a return to, it's much more complicated to quantify, because it's not something that you can interact with in the same way. But it's arguably more important, it's people's lives. So when you think about philanthropy, you know, I always asked myself, what's my what's my return on this investment gonna be? And if it's not the best possible investment, return on investment that I can get, then I tried to find something better. And I approach it rationally. So for me, at least, my heart has taken me to give like it's taken me to philanthropy, but my head should govern how it's done.

Miles
It makes sense. I'm curious what you think about the criticism that's been levelled at donor advised funds that people are using them as a tax shelter, and money is not flowing out of them quickly enough to charities into the causes where it's needed.

David
I mean, I think that that is a totally valid criticism, and it's super problematic the way that many big DAFs behave. You know, for me, money is essentially useless unless it's an action if money is not being used. It's not doing anything good for the world, you think about the 10s of billions of dollars that sit in, in, in charitable vehicles just in the US alone. And it's it's almost criminal, in a sense, right are DAF. So here's how most donor advised funds operate. And, and I have been really vocal about this. And I've talked to all of our members about it when they listened to me, which is that donor advised funds have the wrong incentives. So a donor advised funds, your typical DAF is compensated based on assets under management, they charge administrative fees for the the assets that a that one of their clients has with them, anywhere between sort of at the low end 45 or so basis points to at the high end 150 basis points per year. So the incentive that a donor advised fund has as such is to hold is to hold on to as much capital as possible, not deploy it, because that's actually how they make money. That's how they pay their employees. That's how they exist and persist by charging for a UN. And you might imagine as a result that they would like to have as much assets under management as possible. The more they have, the more they make this incentive is to hold and hoard cash. Whereas you look at Founders Pledge and our donor advised funds, and ours is free for our members to use, it doesn't mean that it's free means that it's just zero cost for them. We Founders Pledge bear costs for every dollar, pound, euro that we have in our donor advised funds, every every day, every year, we lose money by offering a donor advised fund, which creates the incentive to actually keep the balance relatively low. So we want our members to push money out of our DAF to end user charities rather than have it sit, have a sit on it and have it grow. When it grows, we pay money for it. It doesn't go out. The world isn't made me better as a result. So we've tried to create the incentives for our own staff that actually work well with the world that we want to see. Does that make sense?

Miles
Yes, I think so. I think so. I'm wondering what you think about people who say like, it's two pockets, thinking you're making money on one side and sort of giving it away from the other. But maybe you're causing harm in the way you're making your money, which you're not fully taking into account, and it's not fully accounted for when you think of your full life impact. How do you help people think through that?

David
That is a very tricky question. Right? So I'm sure you've read or at least, engaged with Anand Giridharadas book, Winners Take All I mean, yes, that's basically the thesis of his book, which is, you know, what you've just explained, you know, and what we try to do, I mean, it's not like, there's not a bright line, or, or very clear guidance, but we, you know, we have a zero harm grant making policy, and we invite people to join Founders Pledge, if we think they're going to be a good fit for our community. So if you go to our website, you can't actually sign up to Founders Pledge, you know, without first engaging with us. So we don't just allow anyone to join we, you know, we want to talk to whoever plans on making a pledge to ensure that, you know, we there's value alignment between that potential member and Founders Pledge, because if there's not, then there's very little point in us working with them and helping them if you know, we believe radically different things. As part of that process, we seek to understand what their business is, obviously, and you know, what it does, and hopefully, you know, hopefully, it creates positive outcomes, positive externalities. But but we don't tend to work with people whose businesses actively create harm. Now, the question then becomes what is actively creating harm mean? And, and that's where, you know, it's much less clear. But I'd like to think that, that our members, businesses are actually forces for good in the world. They employ lots of people, they make life easier. But I think that if it's the case that someone has made money, doing something that's harmful, giving it away as a, you know, with the other hand is really problematic.

Miles
Paying attention to some of your public statements, I get the impression you have a not so secret plan, which is sort of a second act that that founders should do. A socially minded for profit business, as their retirement job?

David
Yeah, something like that. You're right. It's a not so secret plan. Yeah, I've talked about it on a couple of stages before. Basically, this sort of comes back to my time working at this at this foundation before I started Founders Pledges, trying to help social entrepreneurs build technology based solutions to big problems. And as I said earlier, like the problem was, they just weren't good entrepreneurs. And, and so I think about, like, what makes a good entrepreneur, and what makes it you know, and I and I can basically list out what those things are, but But the thing that makes a good social entrepreneur is a little bit different. And, and I think that it's a combination of experience, can I curse on this? It's a podcast, I can curse, I guess, it's experience, and fuck you money, basically. So I think that being a social entrepreneur is really hard. And having a deep resource stack helps to be more effective at doing it. And so I think that those sort of two things are pretty important. If you're going to do something big, and technology driven, that's also socially positive for the world. It just, it requires a lot of resource, and it requires an inordinate amount of grit resilience, and, and follow through. And I think that people who've scaled sold, technology companies, who have gone on a journey with us Founders Pledge who've, who've tried to sort of understand the world and its totality are really well placed to build the next positive enterprises of the future.

Miles
And I think you've got something else important, which is age.

David
Yeah, although, yeah, there's also that so experience as a proxy for like you've been through it?

Miles
Well, what I meant is that actually experience is helpful, but that the founders made enough money, young enough, that they still have the energy and interest in embarking on a new, big project.

David
That's exactly right. I mean, so even if someone is like in their 40s, or 50s, when they exit, you know, the thing that they've been working on for a decade, you know, I think you've got another 15, 20 years of work left in you. And, And that, to me feels like whether you're 30, 40 or 50, like, why not? Why not spend the rest of your sort of working life focusing on the stuff that really matters.

Miles
By contrast, for example, or contrast, for example, Bill Gates, or a Sam Walton. And they both were named the richest person in the world, at different ages. And so their ability to give away their money later, is very different. Totally. That's part of what I had in mind. I'd be curious. I'd be curious for how you got the original money to start the organization. Was it all your own? Or did you get outside money?

David
I got I got outside money. I was. I was working for the foundation when I started to develop the idea. And and I asked a couple of people like the people that had started it, it was sort of a, it was connected to the founders forum. So that's Brent Hoberman, and Jonnie Goodwin. And I approached them and said, I want to do this thing. What do you think? I think he really has potential and, and they, they basically said, Okay, well, we'll basically help, we'll help you to get it off the ground and see if it works. And, and at the same time, I went out and approached a couple of corporate partners, that Founders Forum had good relationships with the first and really, you know, aside from Brent, and Jonnie picked a sort of a Swiss bank, they were the first people who said, yeah, this, this, this makes good sense. And they were, they were the first people that believed outside of like, that little circle that I was in. And so they wrote me a check. And the first year, you know, we spent 60,000 - 70,000 pounds, something like that is very inexpensive. And then, you know, and then the next year, you know, I start, you know, by the time I started signing up entrepreneurs that, you know, network effects are really powerful. And I got introduced to a couple other people and so I was getting $10,000 here, $10,000 there. And by the second year, you know, it, it sort of picked up to the degree that, you know, we started getting inbound, inbound attention from donors.

Miles
That's great.

David
Yeah, it's I mean, we've had a very unique a very unique growth curve and and fundraising curve like that. Most charities really struggle. And it's not that we haven't struggled at times. But it fundraising I guess, in sort of in retrospect, fundraising back then was really easy. Compared to how much more difficult it is, when you're instead of raising, you know, $100,000, or a couple $100,000, for your raising several, you know, the high millions per year.

Miles
Besides fundraising, what's been another of the big challenges?

David
Yeah, that's a good question. Um, there are a lot of them. So, that's not the challenges are fun to overcome. But I think that one of the one of the things that has been hard to do is sort of distill Founders Pledge into a message that people can understand people being like, our, you know, our target audience. You know, what we do is relatively complex, even though it even though it doesn't seem that way, at first glance, like, just get people to commit to give money to charity, but like the degree to which all of the different pieces that we do feed into each other to create this sort of virtuous cycle. It's complex. And so you know, the sales proposition, you know, is is not easy to wrap your head around at first. So I guess we've struggled with like, clean, like single mindedness or clearness of our of our proposition. It's been tough to figure out how to do that, especially, you know, when you're larger and operating in multiple countries with multiple cultures.

Miles
Is that a communication challenge? Or is that also a product design question?

David
Oh, it's product design more than communication challenge? I mean, we deal pretty exclusively in English, even though we operate in 34 countries. And it's, I think it's a product design issue. And it's one that we've gotten a lot better at over the course of time. But it's, it's still, you know, it's not straightforward.

Miles
Have you ever considered holding parts of the companies directly? How do you mean, instead of the founder pledging to give money away, giving you early equity in the company that they're running?

David
Yeah. So we, we we do that occasionally. So there's a couple of reasons. Why? Well, I should start by saying, if it sounds like I'm giving tax advice, I'm not, I can't give tax advice. I'm not a tax advisor. anyone listening should not rely on this for as tax advice. I've been conditioned by the lawyers to say that. So often, it makes sense, especially in the US, for entrepreneurs to donate their pre or sort of privately held shares. But having a company donate equity tends to be for the for the founder, not very optimal. So we wanted to, we wanted to set this up, I wanted to set this up so that it was really easy for a founder, to commit to give, you know, on the fly, take a couple of minutes to think about it, obviously talk to a significant other, and then be able to sign a (unitelligible), like a one, one sheet of paper, it says I'm going to do this thing, and then figure out actually, as you get closer to having liquidity, how one does it. And we looked at different forms of sort of how can someone rather than sort of dealing with it personally post exit, give, you know, options or warrants or some other type of stock unit to us in advance. And almost all of them warrants and options don't really make good tax sense for for the founder. But we do often accept private shares, like actual just fully fully vested shares of common stock donated by the founders or other relevant shareholders in advance of a liquidity event, and that that tends to produce better tax outcomes, compared to cash. So we do we do that quite a bit these days.

Miles
Yeah, and that is getting into the nuances of US tax law, which is probably going to bore most people. But I think I understand where you're going with that. I'm also curious about your sense of the funding environment for startup nonprofits. You mentioned, you were able to raise money relatively easily in the small dollar amounts. What is it like for startup nonprofits? do you encourage people to fund those? Or do they seek other sources of capital?

David
Yeah, it's really hard. It's really hard. There's no shortage of nonprofits in the world. You know, there are many millions of them now. And, and raising money is difficult because it's sort of it's competitive. If there's lots of things out there, and I wouldn't, I wouldn't wish it on some of my worst enemies, to be honest. That said, those that do start nonprofits that sort of start with for the right reasons and what sort of with the right head on their shoulders can be really successful. And founders pledge has a seed funding program where we, we tend to fund sort of middle stage, you know, a couple years of track record under their belts, some evidence base type of organizations, but we have just this year started to do sort of much earlier stage funding, seed funding for nonprofits, to sort of validate hypotheses. And there's a bunch of other sort of, there's a bunch of other funders out there that do stuff like this. So Fast Forward is an accelerator in San Francisco, Kevin Baron Blatt runs and it's great for starting a nonprofit and you're sort of technology enabled, obviously YC has, accepts a couple of nonprofits per cycle. That, you know, in the UK, there's, there's a, there's a couple of sort of nonprofit accelerators, incubators, funding groups as well. But in general, it's tough.

Miles
Yeah, we run a Giving Circle, a Startups for Good Giving Circle for startup tech nonprofits. And we're just getting that started. But very plugged in with Fast Forward community and the YC program is great. It's just not very big, as you pointed out.

David
Yeah. And, you know, aside from that, it's, you know, it's, it's what anyone does, when they raise money, family and friends, until you can get to a point where you've got some, some proof of, you know, some product market fit. And then and then raising money once you actually have that evidence base is a bit easier.

Miles
Do you have any advice for aspiring founders, whether for profit or nonprofit?

David
Funding advice? Or to just generalize

Miles
Just general?

David
Yeah. What would I say? It's, it's build things people want, might sound like Paul Graham, right, it's true. And test, so like and test assumptions, until you're sure that those assumptions actually hold up to scrutiny. So and that's especially true in sort of the nonprofit space, it's, it's just like, we often make these sort of pretty, like, pretty big assumptions about things that seem very obvious and seem very straightforward. That, you know, on further investigation tend not to be, and if you build an entire business, commercial or otherwise, around faulty assumptions, it's gonna really struggle. And in the nonprofit space, that tends to, they tend not to fail as quickly as commercial businesses, you know, because commercial businesses, they sort of, you can't convince people to continue to give you money on a rational basis. Because when it's when it's not working, whereas with nonprofits, you know, the appeals are off more often than not emotional appeals. And so those don't necessarily have a base in reality or in rationality rather. And so you see these sort of nonprofits that just hang on, you know, for dear life, sometimes for a very long time, despite the writing being very clear clearly on the wall. Yeah, you waste a lot of time.

Miles
Which book article or website would you recommend to aspiring founders? Wait, But Why? It's the best thing on the internet, as far as I'm concerned.

Say more.

David
So do you know it? Have you heard of it?

Miles
I've read some Yes. But I don't know if our listeners are familiar.

David
Wait, but wait, but why is is not sort of long ish form. I don't even know how to explain it explaining explaining stuff. So it's written by a guy named Tim Urban. And he explores issues in depth, that are seemingly quite complex, and quantifies them and breaks them down in really sort of human and relatable ways,

Miles
With great drawings and cartoons.

David
And he does really great illustrations along the way. So, you know, Tim, I think, is one of our great, great thinkers. He reasons from first principles in an astoundingly effective way, and explain stuff over the course of you know, many 10s of 1000s of words, in his articles in his blogs, I guess that just sort of help help people to think better. You know, I think I think it's great It's not very startup aligned. But if you if you're if you think better than that, certainly must help. But it's my it's my favorite thing on the internet.

Miles
I think he was the one who did the illustration of how many days you have in your life, and how many hours you have with your parents or your children.

David
And how many weeks how many weeks you live, so your life in weeks This is. So Tim actually had a really meaningful impact on my journey. Because it you know, turns out that like, our most precious resource is not our it's not our wealth, or financial wealth, it's our time. And he I can say that maybe like, yeah, of course, of course, time is the most important thing. But when you actually can quantify it and see how quickly it goes, that becomes a different thing. So wait, but why has your life in weeks, and it basically quanta, it's a poster as well. And you can, you know, you can download this, print it and put it on your wall. And it basically has a small like a small box per week of your life in a two year life, or 90 year life rather. And you can put it all on a letter size sheet of paper and put it on your wall. And every week, you can like tick off a box and you can see the time progress. And to me, it just it made me realize how fleeting our time is and how important every moment that we spend in the world is and we should be making the most of it while we're here. Because it's not going to last forever. And, and that that just sort of put, put a fire in my, in my gut the likes of which I hadn't had in a long time when I when I realized, wow, I don't have much time left. You know, I'm 36 I'll be 37 this year. And I still feel that I've got plenty of plenty of time and air quotes, but also not so much, I guess.

Miles
Very inspiring. Thank you for sharing that. Where can people follow up and learn more about your work?

David
Founderspledge.com I hope the website does it justice. We've got quite a developing blog. So we've started to take a lot of the stuff that we talked about internally and write it down and put it out on our blog. So I think our blog is a really good way to start to think about stuff. Whether it's how to plan your giving, how to think about trade offs, how to use that how to square personal values with philanthropic goals. There's a lot on our on our website.

Miles
Thank you so much for coming on Startups for Good, and make the most of your week.

David
Thanks. Thanks for having me.