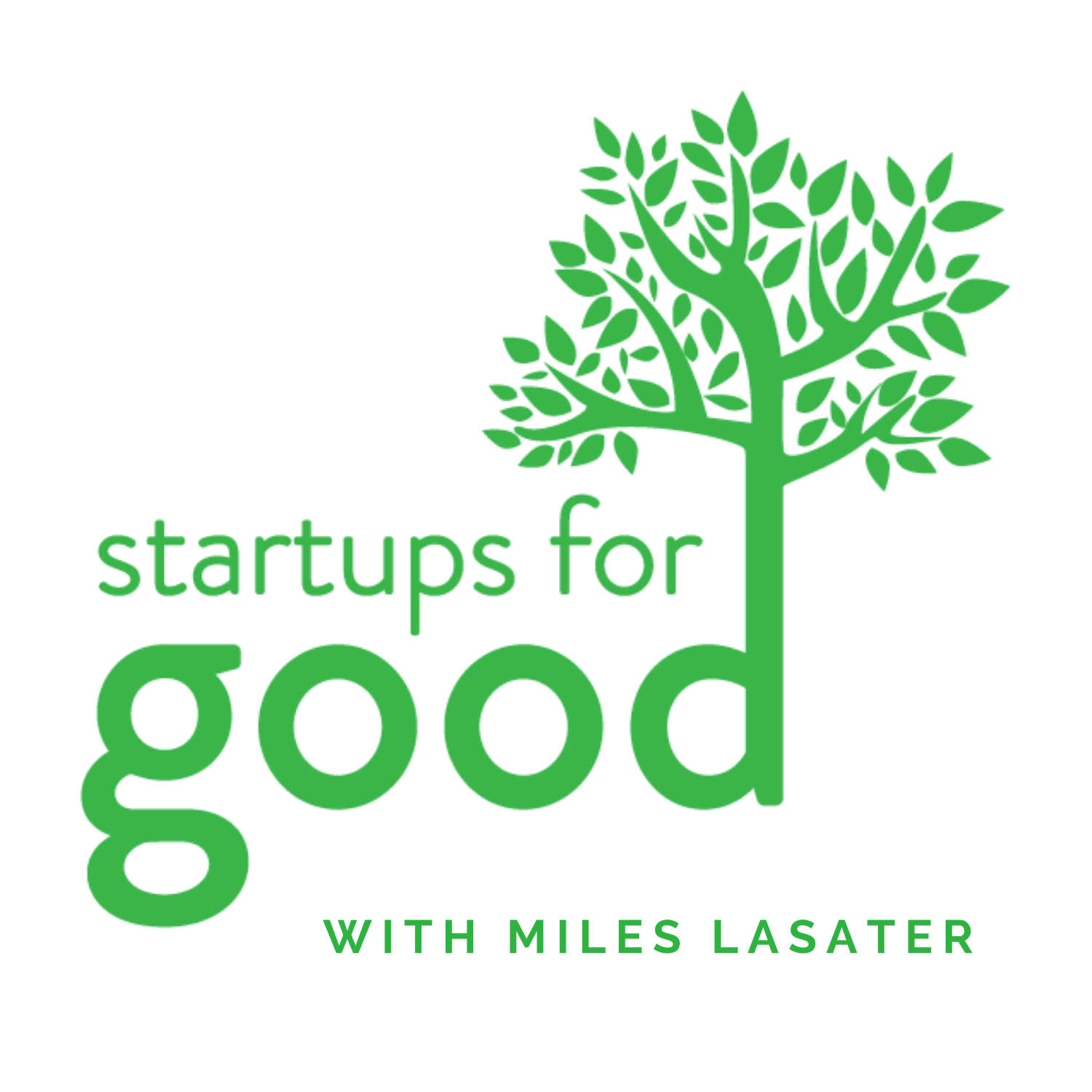 Tess Michaels founder and CEO Stride Funding which is a venture backed student financing company. Stride offers a more flexible financing option to traditional student loans using an income shared agreement. Tess is a serial entrepreneur and has worked in investment banking at Goldman Sachs and Vista Equity Partners. She is an alum of University of Pennsylvania and Harvard Business School

Tess joins me today to discuss how she was inspired to start Stride and how she built the team there. She shares how they have managed their investor relationships with two rounds of capital funding and investor funding for their impact financing products. Stride is changing the payment structure of traditional loans to being more tied to the students' graduation outcome. Tess discusses some of the latency that occurred this year in conversion as students were adapting to the changing college landscape. We are happy to have Tess here to share some of her lessons, entrepreneurial heroes and some of the books they have written.

"I think economic mobility is very much something I'm a huge believer in. Both my parents were immigrants and education was the reason they really were able to progress in their careers and their journey to America" - Tess Michaels

Today on Startups for Good we cover:
Outcome driven products
The differences between income shared agreements (ISA) and traditional loans
How higher education may change in light of the changes in instruction methods due to COVID
Investing in data science
How impact investing was welcomed at a school like Wharton
How to juggle the many hats of raising funds for the business and the student financing
Some of the biggest challenges of growing a business
Consumer education about ISAs and alternative financing models

Connect with Tess Michaels on Instagram or their website as well as any questions for Tess can be emailed at Tess@stridefunding.com

Subscribe, Rate & Share Your Favorite Episodes!

Thanks for tuning into today's episode of Startups For Good with your host, Miles Lasater. If you enjoyed this episode, please subscribe and leave a rating and review on your favorite podcast listening app.

Don't forget to visit our website, connect with Miles on Twitter or LinkedIn, and share your favorite episodes across social media. For more information about The Giving Circle please visit our website and click on Giving Circle
Transcript
Miles
Welcome to startups for good Tess, it's so great to have you.
Tess
Thank you for having me.
Miles
Yeah, I'm excited to dig in learn a lot more about your story. And about Stride Funding. I think the place to be great to start is How did you decide to be an entrepreneur?
Tess
Yeah, absolutely. You know, my first foray into building a business was actually back when I was at Penn and undergrad, I had built my first startup, which was a software analytics company in the CSR space. And you know, we had a small exit there, but it was really a passion project on something I cared about, which was companies really utilizing their resources to, you know, drive good in society and support causes they in their employees cared about and use really robust analytics for that Stride actually came from a fairly personal place. As you know, as you know, Miles, you know, I spent most of my career in finance and then actually founded Stride from a student first perspective, I was a graduate student, I'm thinking about my own financing options, and looking at my peers and realizing many of us have the same thought, which is, look, once you add books and tuition and housing, it gets very expensive very quickly. And so there has to be a better way. And I realized there was a huge gap in the market were most of the players were just point solutions, right? You had financers, who are just, you know, focusing on the capital market side, you had servicers. So I really saw, you know, there was a pain points in the market. Most players were not offering end to end solutions, nor were students centric and realized, hey, if, if it's not me, who's who's going to do it, right. And I think that's how many entrepreneurs tackle problems, is by seeing gaps and kind of going at them headfirst and creating an amazing team to hopefully execute well on that vision. But it's been such a ride so far.
Miles
So was it in each case, the idea that drew you in? Or did you decide first that you want to start a company? And then the idea?
Tess
Yeah, so my first venture was very much the idea first, I was doing research at Wharton on kind of hybrid models, you know, for profit organizations that had a social mission bend. So that naturally came about Stride, you know, I knew coming into Harvard business school that I wanted to move back into an operating seat, while I loved investing, I just missed working on, you know, day to day on something I was crazy about. And so I knew I wanted to move back into an operating seat, I asked, you know, everyone from friends, super drivers about, you know, problems they saw in their life. And stride really happened pretty organically after, you know, thinking about different ideas, I really saw a pain point pretty firsthand, and said, Okay, this is this is something where there is clearly, you know, a lot of demand, and the solutions aren't perfect. And I really think there are ways to improve them. And I also think that I, alongside hopefully a future team, I will build which now we have, can really, you know, execute well on. And so, yeah, it's really exciting to be working on something that, you know, I got to experience firsthand, but I don't think it always has to be that way. So
Miles
Great. So tell us about Stripe Funding, what is it that you do?
Tess
Yeah, absolutely. So what we're really focused on is changing the narrative toward outcomes driven financing products, especially in the student loan market. And so essentially, we're an end to end provider of income share agreements, we've now actually expanded to offer other outcomes driven products in our portfolio. And so instead of a, you know, traditional loan where students accrue, you know, interest and there's, you know, this structure around principal and interest with an income share agreement, students just pay a fixed percentage of income, usually a single digit percentage over a set number of years, usually just five years, which is far shorter than traditional loans. And the whole idea is, it really aligns the, you know, cost and value of education and ensures everyone is focused on student success, right. If the student does well, everyone from the school to the provider to the investors do well, and it has been, you know, really fun seeing kind of the uptake in both the traditional University market and the bootcamp space.
Miles
So when you say outcome based, can you explain how that works?
Tess
Yeah, absolutely. So when you think about the financing market, I think, you know, the old world was primarily your large banks who were then disrupted by your big fin tech companies, you know, that came in and offered, you know, traditional lending products. So what we're really focused on is instead of thinking about just loan or debt only products, how can you essentially change payments to be, you know, tied to earnings, right. And so that way, if a student is, you know, pretty cautious about how to pay for school and pretty thoughtful about different options, they say, Okay, well, I know it's worth it to go get my, let's just say, your master's in data science for my nursing degree, because my payments will be tied toward what my outcomes look like post graduation. And that is a fundamentally different model than what we've historically seen in the lending market.
Miles
So you're saying, if someone earns a higher income they pay more, but if they have a lower income, they're paying less?
Tess
Yes, but there are student projections on both sides of the spectrum. So we have caps on the maximum students will pay. And we also have, you know, minimum income thresholds, which essentially say, if a student is underemployed or unemployed, they don't pay during those periods, and there's no penalty for them. With that being said, you know, we are really focused on students with very predictable earnings streams, and we have impact investors that are able to really drive very affordable rates for students. And so it's not a choice between affordability and flexibility, the goal is to really offer both.
Miles
And this is allowing people to get the education they need to have the career that they dream of, which is really exciting. And something that I personally, am inspired by, is that kind of opportunity, providing people economic opportunities, part of what I find so inspiring about the story.
Tess
Absolutely. I think economic mobility is very much something I'm a huge believer in I mean, you know, both my parents were immigrants and education was the reason they really, we're able to progress in, you know, their careers and their journey to America. And I think about so many of the students stories we hear about, and it's so touching. Also the types of students we impact. While you know, the vast majority of students, we funder and healthcare or stem degrees, you know, be actual population is majority women and majority minorities. And that, you know, definitely gets me excited to wake up every morning and go to work and help more students like that. So, yeah.
Miles
Yeah, I do think it's really inspiring. I have heard the question from some people who are newer to this or who are skeptical, who wonder if it? How do you value that insurance part of an ISA an outcome based product verses a loan? If you're, yeah, if you're thinking, maybe I'll make less, you're really buying insurance that your career doesn't go well? How much you're paying for that?
Tess
Yeah, absolutely. So I think there's a few pieces that are important. So first, again, this is meant to be a menu option, right? It's not a silver bullet, this is an option for students. But I would say, you know, the insurance piece is one element of an ISA that is attractive, because at the end of the day, life isn't a straight line. And especially in an environment like 2020, during COVID, I think, you know, the, the possibility of folks being furloughed, or thinking about an uncertain job market has become something that I think almost everyone has felt, right, it's not just one population, or students were more, you know, cautious about what their career looks like. And so I think, first of all, in this job market environment, it's important to just have that protection, because the truth is, when you're very successful, it's great. And if you end up paying a little more, that's okay. But when you do have a, you know, tough time in life, whether that's professional or personal, it's nice to have that support. But that being said, the two things we think about our first is, how do we make sure that we can really make our products priced very attractively. And as I mentioned, we bring, you know, almost entirely large, you know, multibillion dollar nonprofits are impact investors to the table to fund these ISA. And therefore the rates themselves are very attractive. So it's applicable to a larger body of students. Second of all, transparency is really important. So we have, you know, comparison tools and calculators built in where students can compare their different options. What you end up seeing is, you know, even students who are very bullish on their careers, realize as a product, this is very attractive for them, given the rate, the short duration, and then also the career support on the back end that we offer that is just part of the solution. So it's a great point, but I think that's how we think about it as insurance is one piece. And then career support is to help them increase their upside shift their income curves, and then transparency is underlying all of that, to help them make that choice.
Miles
Great. But can you tell us a little bit about the scale either in terms of customers employees?
Tess
Yeah, absolutely. So yeah. So at this phase, we, you know, as a business, we've raised two rounds of venture funding or You know, first round was led by GSV ventures, which is a big edtech fund and Deborah Quazzo sits on our board there is co lead with slow ventures. And we, you know, from a traction perspective have funded students at over 65 universities across the US schools like NYU, Carnegie Mellon, UPenn, you know, lots of schools in Texas, California, etc. We've also launched now with multiple, you know, very high quality high impact boot camps, you know, that we really see alignment on the outcomes of our ISA products. And so I think, for us, we have always focused on having this dual pronged go to market where we want students to have access via the direct to student offering. And then we want to be able to scale and have institutional partnerships in place as well. And it's been, you know, really fun journey building this for sure.
Miles
How big is a team?
Tess
So we're right around 10 full time, folks right now. And it's an amazing group of Swiss Army knives. My first full time hire was a guy named Patrick Connor, who has been in student lending for about 25 years used to manage student lending at Wells Fargo and was early at SoFi and it's, you know, been so fun kind of now growing that team pretty quickly. So
Miles
Exciting. Now, as a financial business money not only funds your working capital, but in some sense is your product. So you need to be raising debt and equity constantly. You've talked about VC funds, and impact investors. And I wonder if there's other types of investors that you're managing? How do you do all that?
Tess
Yeah, absolutely. No, it is a, it's a fun to think we are, you know, constantly juggling talking to partners and investors, and within investors, operating capital investors, and ISA capital investors. So I would say, you know, for us, you know, the operating capital is the VC capital is strictly for our growth as far as hiring and continuing to refine the product. Whereas we raise capital to fund students within kind of an SPV structure. So we have funds that are subsidiary to, you know, the parent company. And, you know, our first fund was just focused on traditional university students title four university students, primarily, you know, backed by large impact investors, as I mentioned, our second fund is focused on the alternative education space. And, you know, we have large banks, who are putting capital in there at very fair terms. And as we scale, I think the way we think through it is, you know, A, we primarily focus on large institutional investors that we know we can scale with, versus having to keep going back out to the capital markets. And we typically bake upsize provisions into our contracts. So it's a lot easier to scale with these partners. And with that being said, we also have players like boot camps that want to fund off a balance sheet. So they get the upside of their students performing well, right, they delivered on high quality education, and they want to actually participate in that. So it is definitely fun to keep a pulse on how the capital market system is working. But it definitely requires all hands on deck in it, it definitely means no one other team is getting that much sleep, but we're all pretty excited about the work. So it's worth it.
Miles
Does that mean that you have to spend more time fundraising, then a software CEO, do you think?
Tess
Yeah, soI would say that, you know, we've built a pretty robust solution end to end and  so, you know, the platform itself scales pretty nicely, as far as we're, you know, time is spent? I would, I would probably agree, I would say on the VC front, definitely not our first, you know, a venture round was preempted and happening, you know, very quickly. Our second also is a very quick process. I think a lot of people are big believers in the vision on the ISA capital front, it definitely, especially earlier on to quite a bit of time to really get trusted investors that we believed had very fair rates, especially given our focus on making sure students are really, you know, given kind of the most optimal terms. So I would definitely say I spend more time raising is a capital than, you know, a founder of a company that doesn't require any funding beyond VC capital, for sure.
Miles
And you alluded to making sure that all of those investors are aligned with your mission. What do you think about that? How do you determine that?
Tess
Yeah, absolutely. So, the way we think through it, as you know, first you can, the way once you get term sheets, it's very quick. You can see how investors are structuring this and what are the general terms versus alternative Students have, right. So traditional university students clearly get access to federal funding versus your Bootcamp, students don't. And we, they also may have different risk profiles. So first is just seeing are the terms fair. And at this point, we've gotten, you know, lots of signals from the market to really be able to compare pretty, you know, thoughtfully. Second is really about thinking through, okay, once you've compared, what is the broader vision? Like, why are these investors excited about this? And, you know, what gets me excited about it is when I meet investors that, you know, our focus on increasing access, which is very much how we were founded and what we care about. And once you have aligned investors from that perspective, it's about what's the growth of the business look like? And are they going to continue to support students as we evolve, and as we offer new products, and I think we've been very fortunate to find ISA capital investors in that bucket. With that being said, I mean, I think there's a huge range of types of investors, right, you have your big nonprofits and foundations and family offices, all the way to, you know, banks, credit funds, and very traditional types of investors. And I think as the market expands and becomes more mainstream, you'll see capital infusion from all parties across that spectrum.
Miles
I'd be curious for your thoughts on higher education in general. In particular, let's start with the changes coming about from COVID. has that impacted your students your lending volume? And have you had to make any changes?
Tess
No, it's a great question. I would say, you know, it was it this year, we've definitely seen the education space evolve quite a bit. I think some of the, you know, main takeaways we had was first, you know, we definitely saw especially early on in summer, just a lot of top of funnel growth of students proactively looking for alternatives to traditional loans, which was interesting, I would say that, you know, conversion or like, you know, the hesitancy of students to sign something until they knew if they were going to take a gap year or go back to school, or what that looked like, was definitely, you know, something palpable, that we experienced. I would say, for us, at least what we noticed is, you know, we continue to see pretty steady volume on kind of our direct to student channels. But where we saw a big tailwind in the market was a around online education group. And when I say online, I don't mean the zoom classes that a lot of on campus institutions have moved toward, but more your traditional degree programs, like your masters in data science that was, you know, built online with a lot of these, you know, partner technology companies. That is definitely a big growth area we've seen and we've made partnerships with large providers to help support that. The second, of course, is we've seen a huge spike in enrollment with alternative education during COVID. Whether it's because folks have been furloughed or you know, unemployed and decided to go back to school and do these short term courses, or because people are taking gap years and taking that time to upskill. Either way, it is very fascinating to see the spikes there. And we as a team have allocated a lot of resources and time to reacting and offering support to those two segments of the market that we see growth in. Does that make sense? or anything? I can add color around there?
Miles
Yeah, that is helpful. Also, when you think about the higher education, market, and costs, do you think that outcome products will drive down the expense of higher education?
Tess
Yeah. So that's a it's a great question. And it's something that gets me pretty excited. So first of all, I'd say, as a company, we've really invested heavily in data science, because I think that as there is more transparency around outcomes of different institutions, there's, you know, two impacts. One is what you said, which is around cost. The second is students being more thoughtful on where they decide to attend based on the outcomes of those different programs and those different institutions. And right now, even when you look at surveys, you know, most of the reports are focused on, you know, what are the top 50 universities, but not what are the top programs within those universities that have the strongest outcomes. And we've actually done a lot of work of creating what we call our stride scores, to really help students distinguish, you know, between different programs and where the, you know, return on investment per dollar is higher. And so that, that is something I think we're pretty excited about and truthfully, you know, you can use it as a proxy, if you actually go on our website and just play around with our pricing calculators. You can see how I say rates differ based on different programs and different schools. And we actually had done an asset acquisition of another, you know, company in the space as a data science company. We acquired, you know, all of their ISA pricing models which really helped us Within two seconds price students across very different programs. And I think that's a fun way to honestly compare contrast and make much more educated decisions as a student, deciding where to spend your, you know, your dollars and your time.
Miles
Before Stride, you had worked in environments that more traditional finance. And when you hear the name Wharton, they also think very numbers focused, perhaps dollars focused. And I'm curious what your experience was, with your interest in mission driven companies? Did you have to not talk about that? Or is that seen as different? What was the reaction when you're in those environments?
Tess
Yeah, no, it's a great question. I think, you know, what's interesting is, I think, first of all, you know, Wharton had so many kind of sub segments of the institution where you could really find your own niche. And for me, you know, I was able to do a lot of research on, as I mentioned, kind of these hybrid organizations or impact driven companies, I also was able to create a major. So I took a lot of classes, like impact investing a lot of classes, entrepreneurship, and the university actually allowed me to create a concentration focused on global impact investing. And so I learned from really amazing professors and was able to really curate kind of the course content I was taking as almost a blend between finance and social impact. And so, you know, you're able to forge your own path and a lot of ways which has been really enjoyable for for me, and, and helped me almost strengthen those networks. With that being said, having learned pure play finance, and worked in very traditional settings, like investment banking, and private equity, also helped me understand capital markets and figure out how to structure you know, deals more effectively, and how to drive better rates to students. So if anything, I think it's actually helped with my credibility when I need to raise capital to support these students. And honestly, it was a very worthwhile spend of time, but it Yeah, it's definitely a environment that is primarily focused on more traditional paths. And, you know, you have to be a little bold to forge your own.
Miles
Do you feel like sometimes you have to switch languages, when you're speaking to your employees for traditional investors
Tess
100%. I think as an entrepreneur, you wear a lot of hats. And in a way, you're a bridge between your, you know, your team members or your employees, your partners and your investors. I, you know, it's funny, when you look at, you know, my calendar, I think every hour is a very different hat that's being worn right one will be an ISA capital investor, one will be a university, one will be a bootcamp, one will be a team meeting, you know, and then you go on from there. And it's part of what makes this really exciting and dynamic. And, you know, probably why this is my, you know, favorite job if you call this a job that I've ever had, because it is so interesting, and so different every day. With that being said, you know, yeah, I think it, it requires me to be a lot more alert than you would be if you were competing with the same folks, the same types of people, you know, every every day, if that makes sense.
Miles
Yeah. I also want to talk a little bit about innovation. The model itself is innovative for the US. How do you think about continuing to innovate? How important is innovation to your culture? Part of the reason I ask is because when we started and ran, HigherOne, working in the higher education environment and being set on the schedule of, you know, academic years, and they start only once a year, it felt sometimes like it was a long time before we get feedback on any changes we made.
Tess
Absolutely. It's a great point. So the way we think through this is, you know, first of all, with the traditional title for university market, with on campus programs, you know, there's peak season, and there's mid peak, and those are the two points in the year that volume really is driven. But that is part of the reason, you know, we've really expanded to thinking through both alternative education and online degree programs, because both of them are not seasonal, right? They're smooth throughout the year, which helps us really think through how to innovate up, you know, every day of the year versus just two seasons. Beyond that, though, I think we think about innovation as A how do we really drive strong outcomes for our students, we've done a ton on the back end with career support, new tools that we've built in around kind of our analytic capabilities. And I think that's really helped us differentiate. And then beyond that, what are product innovations that we can do again, We don't brand ourselves as a pure play income share agreement or is a company, it's much more so about the broader vision around outcomes driven financing. And there's so many different types of products you can offer within that, that have different shapes and sizes, based on kind of the student and institutional partner needs. And so it's Yeah, it's something that I think has been fun for us this year to expand to you versus last year, when we were pure play focused on just traditional University models.
Miles
What's been the biggest challenges as you've been growing the business?
Tess
Yeah, you know, I would say, for us, it's been, it's been interesting. So I'd say the biggest challenges are a really thinking through how to increase awareness and educate the market around income share agreements, you know, I think, a few years ago, they did a study that showed, you know, less than 5% of students, and 7% of parents knew what an ISA was. Whereas if you look nowadays, I mean, look at Google Trends, the amount of media around ISAs, that is naturally changing. And I think we really want to be part of shaping that story, and ensuring there are good actors at play. So I think that's really critical. Second is, of course, keeping a pulse on the regulatory market and how that evolves. And clearly, we just had the, you know, the election, but really thinking through, how do we ensure that all of the players are almost self regulating until ISAs are formally regulated? And how do we think through, you know, the evolving space of how credit is viewed? And then lastly, I think it's really about as we grow the team, I'm, you know, I'm really proud of just the people we've brought to the table and how completely all in every single member is, and I think that as a founder, you constantly think about how do I keep my culture really strong, my team quality is high, and everyone is connected, especially in a world where everyone is so dispersed right now. And that is something I actively spend a lot of time on how to keep the team itself, really, you know, inspired and motivated, and, you know, really entrenched in in what we're building. So
Miles
What advice would you give to an aspiring founder who's listening?
Tess
Yeah, I think, you know, the things that I've really taken is first, you know, don't be, don't be afraid of sharp learning curves, I think you should really pursue ways to, you know, build your know how early second is, you don't have to make mistakes first, and you can learn from what others have done. And so early on, I mean, I spoke with every single person I could on what they had learned through their entrepreneurial journeys, what VC investors had learned from founders that they, you know, really respected and founders that maybe it didn't work out for, I think there's a lot to learn from failure in general. And again, it doesn't have to be your own failure, it can be, you know, learning from peers and others in the space. And the last thing I'd say is, you know, you are the average of the people you surround yourself with, I never hope to be the smartest person on my team, I want to bring together a team of people who are just incredibly inspiring and driven. And I think, as a founder, you should really find, you know, people and that is your own team. It's also the investors you surround yourself with, and it's also the partners you surround yourself with, that, you know, make your vision even stronger and bigger and better. And I think that is something I've very actively thought about whenever I meet, folks, you know, as I think about growing the business, so yeah.
Miles
Who are your entrepreneurial heroes?
Tess
Yeah. So, I have a few folks that I really admire. So I would say, you know, for me, I think that there's a mix of folks who are very, you know, controversial, but really fascinating to watch. So like, Peter Thiel, for example, reading zero to one was and watching him speak was one of the early days of thinking through how you innovate. And that, to me has been really fascinating to think about, and also in the edtech space, you know, I, you know, have gotten to know David Blake really well in group Degreed and he's constantly thinking of new ideas and new ways to innovate. And I think it's amazing to watch teams that have grown so naturally under really amazing leadership. And that, to me, has been amazing. And then beyond that, there are also folks outside of just pure entrepreneurship, but more on the investor side who have been really impactful. You know, at HBS Jeff Bussgang was you know, one of my advisors, mentors and professors who then later became an investor in Stride and he someone who has just been always accessible, always pushing, you know me to think bigger and, but also to think really thoughtfully, and it's a good balance between focus and innovation. And I think I really admire, you know, people like him as well, who used to be an entrepreneur, a very successful entrepreneur now is really a teacher and a mentor and an investor to you know, many folks similar to myself.
Miles
Aside from the book Zero to One, do you have any other reading recommendations?
Tess
Yes. So, so I would say, you know, authors in general, but I really admire include, you know, Adam Grant, and Malcolm Gladwell. I would say, those are probably two of my favorites. And I would say for Adam Grant, you know, both Originals and Give and Take are two amazing books. Most advice because they went to Penn, and he clearly was a pretty inspiring professor there and so, yeah.
Miles
Allright. Well, thanks for coming on the show. I guess as a final question, how can people follow you online?
Tess
Yeah, absolutely. So, you know, first people should definitely follow us on Facebook and Instagram. It's just, you know, @StrideFunding, and then please check out the website. And you know, if you know, anyone who needs funding for school, it's just www.stridefunding.com and we have lots of information there. And lastly, people can also reach out to me directly if they have questions or ideas or want to talk through anything but my email is just Tess@stridefunding.com.
Miles
Sounds wonderful. Thank you for coming on.
Tess
Absolutely. Thank you for having me. Miles.